Crawl Space Repair and Encapsulation in Georgia
Vapor Barriers, Sump Pumps, Drainage Matting & Other Products For A Dry, Healthier Crawl Space
Your home is a system, and every part of that system plays a role that affects the rest of the structure. If your crawl space begins to rot, grow mold, or experience structural problems, this will extend to every part of your home.
At Burroughs Pest Control, we specialize in crawl space problems of all types. We offer free crawl space repair quotes in the Georgia area, including areas like Atlanta, Marietta, Carrollton, Fayetteville, Forest Park, Peachtree City, Smyrna, Kennesaw, East Point, Mableton.
Moisture is in your home or building regardless of the climate. This in and of itself is one of the largest factors limiting the useful service life of your structure. Elevated levels of moisture can also lead to serious health effects for you and other occupants.
Moisture causes wood to decay, metals to corrode, paint and wallpaper to separate from substrate, masonry to have efflorescence, spalling and flaking. Elevated moisture levels can even cause entire buildings to shift.
Control of moisture has and continues to be a prerequisite for a durable home and maintaining affordable housing by reducing costly repairs and maintenance.
Indoor air quality plays a major role in the short-term and long-term health of the occupants and is related to the concentration of pollutants within your home or building. Mold and dust mites are the major health concerns related to excessive moisture in your home or building.
A vented, dirt crawl space under your home is not only a bad idea but leaky return ducts in your crawlspace draws significant amounts of soil gas, moisture, pesticides, radon and other pollutants into the conditioned space in your home.
Crawl Space Repair: Before and After
Moisture, mold and falling, failing insulation are problems in this crawl space, which hasn't been properly sealed.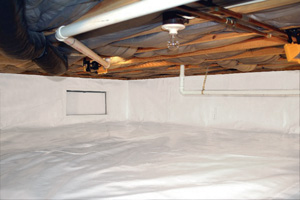 The encapsulation treatment totally separates and protects the crawl space interior from outdoor conditions, keeping the space clean and dry.
The Solution To A Dirt Crawlspace!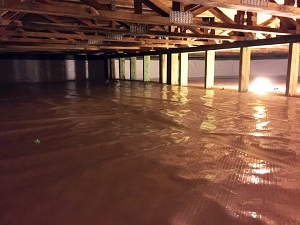 All-size solutions. The CleanSpace® Crawl Space Encapsulation System can provide moisture control for any size crawl space.
The CleanSpace® Crawl Space Encapsulation System - developed by Basement Systems, Inc., the world leader in basement waterproofing and crawl space technology. The CleanSpace® System completely separates your home and building from the earth, dramatically reducing the humidity (moisture) levels in the air. This in turn reduces or eliminates conditions conducive to mold growth, termite infestation, wood decay and unpleasant odors in your living and working areas.
The liner is a 20 mil-thick, polyester cord reinforced vapor barrier and similar to a pool liner. It is tough enough for you to walk or crawl on and/or use for storage. It is bright white to make your whole crawl space brighter with the available lighting. It is also fitted with UltraFresh anti-microbial protection.
CleanSpace® Encapsulation will save energy, reduce humidity and odors, and help create a healthier indoor environment in your home or building.
Looking for a price? Get a no cost, no obligation free estimate.