Cockroach Extermination and Control in Atlanta, Carrollton, Marietta, and the Surrounding Areas in Georgia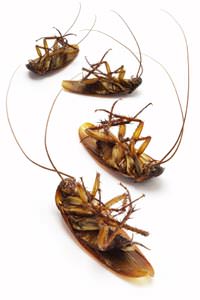 Hard to eliminate. Coackroaches can survive in almost any conditions, so professional help is needed to remove them.
Preventing and Ridding Your Home of Cockroach Infestations in Greater Atlanta, Marietta, and Carrollton
Aside from having to live with these filthy, disturbing creatures, Agricultural Research Magazine writes that they also bring high levels of pathogenic bacteria and fungi, such as Salmonella, which can easily pass to humans through foods and surfaces they touch and contaminate.
They can survive on nearly any food source, including food crumbs, glue, hair, grease, or even other dead cockroaches.
Controlling and Eliminating Cockroaches
According to Science World, as many as 500 new cockroaches can come from a single roach pair! Once they are established, they have 350 million years of adaptation and evolution keeping the cockroach infestation alive and well in your home.
If you have a cockroach problem in your home, Burroughs Pest Control can help. We provide free, no-obligation cockroach control quotes in Atlanta, Marietta, Carrollton, Mableton, Fayetteville, Peachtree City, Forest Park, Smyrna, East Point, Kennesaw, and the surrounding cities in Georgia.
The German Cockroach and The Brown-Banded Cockroach have proven to be especially problematic in plaguing homeowners as the most troublesome species in the United States. Good Housekeeping shows that products such as boric acid powder, which sticks to their delicate leg hairs and is ingested during grooming, have been proven to effectively remove this menace from a home.
Allergens and Health Issues Caused by Cockroach Infestation
In addition to bringing viruses and bacteria into the home, infestations of cockroaches also bring allergens into your home. Cockroach feces, saliva, eggs, outer covering, and the bodies themselves are all allergenic to humans and especially to those with asthma or respiratory conditions, according to the USDA. Studies have shown that the allergens can linger long after the cockroaches have been eliminated and removed, causing them to leave behind heath-compromising allergens that can remain in the area for years.
Burroughs Pest Control provides free, no-obligation cockroach extermination quotes in Marietta, Atlanta, Carrollton, Mableton, Fayetteville, Peachtree City, Forest Park, Smyrna, East Point, Kennesaw, Tyrone, Hampton, Griffin, Newnan, Texas, and the surrounding cities in Georgia. Call or e-mail us today!
Looking for a price? Get a no cost, no obligation free estimate.